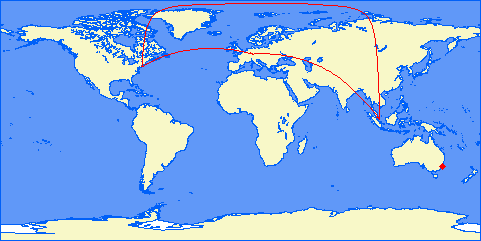 Introduction
In July I got a newsletter from my travel agent with an offer for a flight Frankfurt – New York – Singapore – Frankfurt or vice versa on Singapore Airlines for 970 EUR + taxes (ca. 1050,00 EUR); the offer was only for a limited time (but is available right now again). This special had to be booked before 25 October, the last flight must be flown before 31 October. SQ is as far as I know the only airlines which one could fly round the world, as beside the non-stop route SIN – EWR there is still SIN – FRA – JFK.

I thought some days about thisoffer, asked some friends and some flyertalkers about this offer and decided to book it, not only that I needed some miles to gain a least FTL Status by Lufthansa's Miles and More program for another two years, I also wanted to be on the longest non-stop flight I have heard and read so much, especially on flyertalk.

So I booked this flight and because it should not be a real mileage run (in 2004 you could do it without staying at any place for a night), I decided to stay two days in New York (for the first time), two days in Singapore (not the first time) and do a side trip out of Singapore to Kuala Lumpur for four days (again for the first time). Unfortunately my travel agent booked the flight SIN – KUL – SIN too, I just asked her about availability. I have planed to book this myself using the cheap first class fares, but as my travel agency booked it I ended up paying 170.00 EUR for a non refunding economy ticket (issued as SOTO if I remember correctly). But as the rest of the booking was excellent – she reserved my favourite seats in the back of the planes without need tell her – I do not blame her for booking this flight also.

As the flight to JFK leaves at 8.30 in the morning, I decided to use the Airrail service to fly to FRA the day before. I booked as usual Business Class Return QKL – FRA – QKL (at least at this time) in the end of August before the ticket service fee etc. appeared. Some weeks later this low business fare unfortunately disappeared and you have to pay the high (flight) fares of some 380.00 EUR.

Living 35 km north of Düsseldorf I used another train to go to Cologne Main Station.

This train ride (Intercity train) was nothing special to report, it was very full in all classes (I booked a ticket for first class but thought it would not be necessary to reserve a seat, a mistake, I ended in a crowded smoking car but with a seat) and had a ten minutes delay in Cologne – as you see Deutsche Bahn as usual.