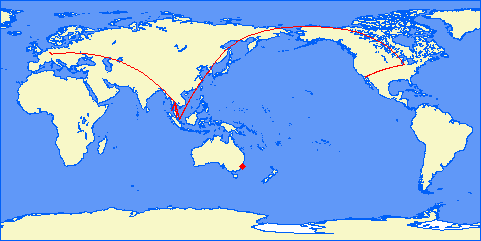 Prologue
At the beginning of December 2006 right after the Frankfurt Advents DO, there popped a mistake rate at the Le Meridien Khao Lak on the screens of the most Flyertakers, including me. With the help of airoli I was able to book a pool villa in May and airoli booked the three nights after my stay. So I was able to stay six days in this really nice hotel, while airoli unfortunately could not arrive earlier due to work reasons.

Also in this time airoli was planning his requalification as LH Senator and had several options, which unfortunately did not work out the way he wanted. In the end he thought about one of the fares ex Bangkok cathaana and I used in 2006. Although I had earned Star Gold in 2006 and there was no need to requalify in 20007 it was tempting to do this run again. Around Christmas there were rumors that the OZ fares ex BKK are not bookable in 2007 so we proceeded our bookings, doing a combination of a LH stopover fare (me) and a student fare on OS (airoli) with a sidetrip to HKT to get our pool villa. We added some days in KUL for relaxing and trying the KUL Hilton.

We meet flyertalkers at Changi, in San Diego and in Singapore and had a lot of fun.