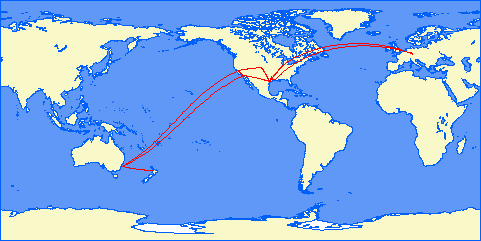 I was able to book one of the Error fares to Auckland on United back in 2007, for me LAX-SYD-AKL-SYD-LAX. I booked it for flights in February 2008 to be on the safe side for the flights to Los Angeles.

In July 2007 there was another fare of 296 USD for a flight from SFO to STL in domestic First, which I booked, too. This flight allowed several connections and it came out as SFO-SEA-ORD-STL-DEN-SAN-SFO. Since this means I was in the air for the most of the time during my holiday, I decided to maximize this by booking a United / Lufthansa fare in V, earning full miles on Miles and More allowing me to criss cross the US. (Due to some weather issues in California and the East Coast as well as in the Midwest I decided to cancel this trip in San Diego on the day of departure. United was so kind to refund me the whole fare, though it was not cancelable).

It happened there were some major schedule changes, affecting nearly all of my flights. So, I was rebooked on SYD-SFO-LAX instead of the direct flight to LAX. Several schedule changes affected my domestic mileage run in First on United and some my flights from back from the USA to Germany. Unfortunately on my way back, cutting the connecting times very short, this seems especially in February with not so good weather conditions a bit of a problem.