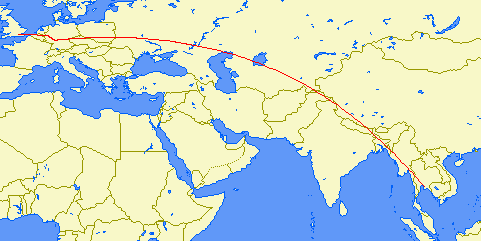 An fantastic fare for a flight from Bangkok to Frankfurt popped up last year and I was able to book a flight. Though I was not able to get a more creative routing than just Bangkok to Frankfurt and in addition it was only a one way, I made use of it and thought about the how to get to Bangkok later.

With a little bit of research and the help of another fellow flyertalker I was able to get a affordable one way into BKK in February out of LHR. Unfortunately the availability in "V", the cheapest fares which earns 100% on Miles & More, was low (waited too long until I booked the fare) and therefore I had to limit my time in Bangkok to two days. On the other hand this means I could join the LH Italia inaugural flight two days earlier. And better than the famous song "One Night in Bangkok" by Murray Head.

By the way, my first time in Lufthansa First Class Cabin. I have tried a few first class cabin in the past couple of years (I should add since I read flyertalk more or less daily), but never been on Lufthansa.

So in the end I was flying DUS – LHR on a one way and LHR – DUS – FRA – BKK on another oneway with an operational upgrade into C for the longhaul segment and BKK – FRA. I wanted to spend some time in Frankfurt and Karlsruhe before I head home but a business meeting on the afternoon of the day I returned from Bangkok caused an earlier return and so there was another oneway FRA – DUS bought to get me into my office before 09:00 to prepare for the meeting. As usual on such a situation, I got a few strange views from colleagues when I told them I just flew in from Bangkok for the meeting.