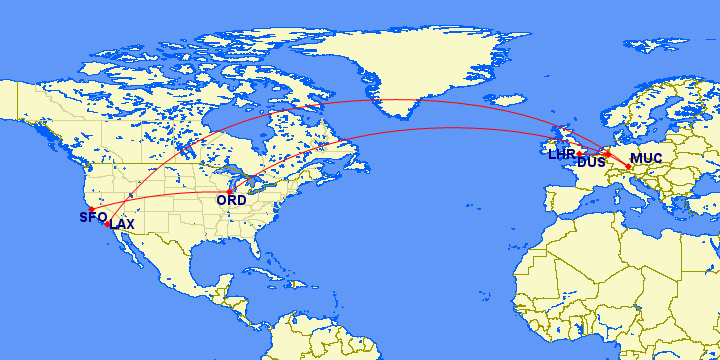 The launch event of Star Alliance Mega Do and the moderator workshop in Great LA in April 2010 was reason enough for another trip over the pond. I made use of a special fare by UA, but booked codeshares on LH. The latest possible flight to LA out of Germany was booked, which gave me the option to be in the office for half a day, if necessary (which luckily was not). This time, I added a few leisure days to the "business part" of this trip and decided to drive from LA to the Bay Area and SFO to meet with a friend and relatives. Flying back from SFO on a direct flight was unfortunately not possible, since the fare bucket I needed was not available on LH. So I booked SFO to ORD and then the nonstop service on LH to DUS.
During the procedures of planing this trip, Hyatt offered a Platinum trial, where you got immediately Platinum Status and could keep it, if you requalify in the promotional time of six month. There was also a short cut to Diamond for only 15 stays rather than the 25 usually needed. I made use of the Platinum Challenge, also I know, that I would be unable to get the 15 nights. Searching for hotels on my way let me choose the Hyatt Santa Clara, the Hyatt Place in Fremont and make use of a special rate at the Hyatt Fisherman's Wharf, which came with a 20 USD F&B voucher for the restaurant and was only 119 USD. Hyatt was also running the Faster Free Night promotion and I had already three stays, so I was looking for a fourth stay. I discovered by coincidence, that the Andaz in London was only 85 GBP on the weekend after my return from California. So I also added a quick escape to London, as I wanted to make use of the low rates at the Andaz Hotel.

So I also got two free weekend night certificates, which I used in the Park Hyatt in Zurich in June and so the trip to London paid off itself.

In addition to the Hyatts, hotels of the Hilton Family were booked in El Segundo and later on in San Francisco and Düsseldorf, helping to requalify for HHonors Gold and get another free night.

Unfortunately in mid April, a volcano eruption in Iceland caused a bit of trouble and for a few days, it looked, as if this trip was not going to happen. Luckily, two days prior to our trip, the air space was opened again and we could fly.

I was travelling together with rcs85551 who was using a SWU for an upgrade to Business Class and offered me to upgrade me also. I am bit reluctant, but as it was a hectic and very busy time, I accepted this offer. So it was Business Class on the long flight to California but only Economy on the shorter flight back to DUS.