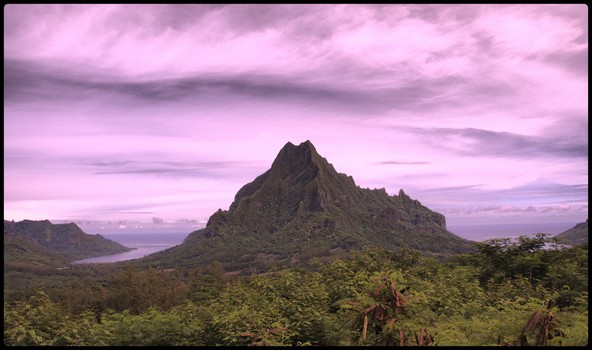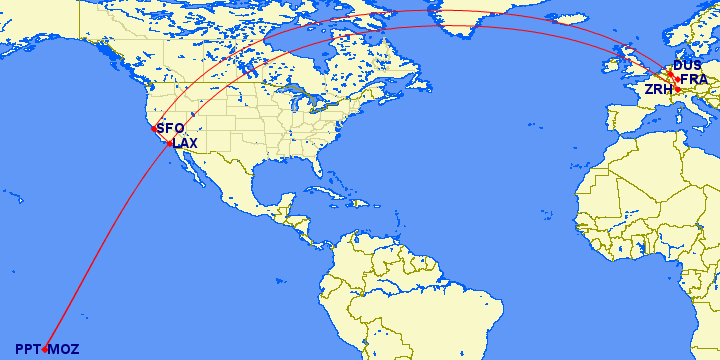 I had the opportunity to travel with another flyertalker – rcs85551 – to Papeete and to Moorea in January 2010 and spent a week on Moorea. Originally this trip was planed for April, but with a very heavy workload and the Easter break it appeared that this date was not the best. And since the award availability as well as the fares from LAX to PPT on Air France were not that worse, as I had expected given that this was a busy time over christmas and new year, I booked an Award in Business Class from Düsseldorf to Los Angeles using Miles from my Miles & More Account and booked a separate ticket from Los Angeles to Papeete on Air France for 970 EUR including taxes.

The flight to Los Angeles was Lufthansa operated by Eurowings from Dusseldorf to Zurich and then Swiss from Zurich to Los Anegeles. The flight on Swiss that two advantages: It had an earlier arrival time in Los Angeles compared to the Munich flight on Lufthansa and thus gave us more time if the flight was delayed to catch our flight to Papeete and more serious for me, it was the flight were my tavelmate had a First Class ticket and therefore I had the possibility to visit the First Class Lounge in Zurich.

The flight back was Economy on United from Los Angeles to San Francisco where I could transfer to the Lufthansa flight from San Francisco to Frankfurt and then on to Dusseldorf. After my trip back in April on Swiss and Lufthansa in Economy Class, I had now the change to compare their product in Business Class.

The only downside, so to say, it the Air France flight in Economy Class. But as I booked it, I thought 8 hours in Economy Class are survivable as this is not longer than Germany to New York. We will see, if I am right about this.