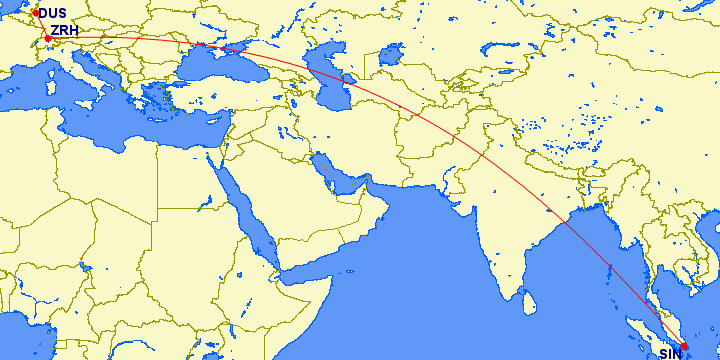 Swiss flew to Singapore from Zurich via Bangkok for some years, before the flight Bangkok to Singapore was axed a few years ago. Singapore is a very lucrative market, but Swiss had not the necessary plane to offer a flight to Singapore from Zurich for some time. So it was only Singapore Airlines flying Zurich – Singapore nonstop and their flight using an Airbus A380 was quite full in Business Class and making money. There was of course demand for a second flight and Swiss was able to offer the better flight times with a flight leaving Zurich in the late evening and returning in the early morning, offering better connections to other European destinations and having the better flight times. With some changes to the route network and the delivery of a new Airbus A330 Swiss was finally able to start flight to Singapore again in May 2013.

The Travel Agency SkyTravelAgent in Munich was able to offer a special fare celebrating the launch for the new non-stop service from Zurich to Singapore. The fare was upgradeable with Senator eVoucher or miles and earned 100% miles with Miles & More as well as other frequent flier programs. Singapore is always worth a short hop and I have not been there for a couple of months but wanted to sample some things and do some research in regard to food outlets and places of interest. So without much hesitation a flight was booked.

I upgraded the return flight from Singapore to Zurich with two of my expiring e-Vouchers as my intention was to go straight to my office after returning, but since a meeting was canceled, I used my home office but of course did not cancel the upgrade.

So it was another nice trip on Swiss in Economy and Business Class.