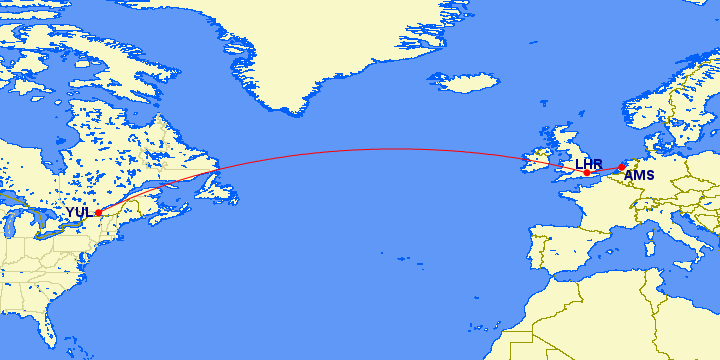 December is usually a busy time for me with a lot of meetings and thing to finish before Christmas break. I had plans for a trip to Canada earlier in 2014 but none of them really worked out. In so far it was nice to finally being able to squeeze the trip to Canada over a long weekend somehow into my already full workload in early December. Given that I needed four segments on British Airways for my British Airways Executive Silver requalification and also 40 tier points, I decided to fly British Airways. Since I needed the time in the plane to finish a review of a report, I decided to book World Traveller Plus, as this offers more space and also more privacy. Paying the premium for Club World did not make much sense, as I would hardly be able to enjoy the benefits of a Club World Cabin and basically only need a chair, a desk and maybe a power outlet. I also had a 20% off voucher from British Airways, which could be redeemed on this flight and thus reduced the costs significantly and in the end British Airways in Premium Economy was not much more expensive than flying on a Star Alliance Airline in Economy. And since I had experienced British Airways in Club World back in 2012, I thought I give them a try in the WTP.

I had thought about upgrading the return segment into Club World, but in the end did not do it, as due to the strong tailwind, the flight time was really short. Had I known, that the night in Brussel following my arrival would be rather short due to a last minute preparation for a meeting in Brussels, I most likely would have changed my mind …

For my hotel nights in Montreal, I booked two nights in the Hyatt Regency and two nights in the Sheraton Le Centre Montreal. I knew both hotels from previous visits and both had easy access to public transportation (especially the 747 bus to the airport) and to the places I needed to be in Montreal, as I made a few arrangements for my self-employed business on this trip.

Overall, it was a much needed weekend escape in the hectic and chaotic December and despite the fact that it was a longhaul flight, helped me also to re-charge my battery. The nice effect, it was a cold but clear winter weekend and I enjoyed the fresh cold air very much and also being able to catch up with close friends in one of my favourite cities.